DA-IICT Campus Map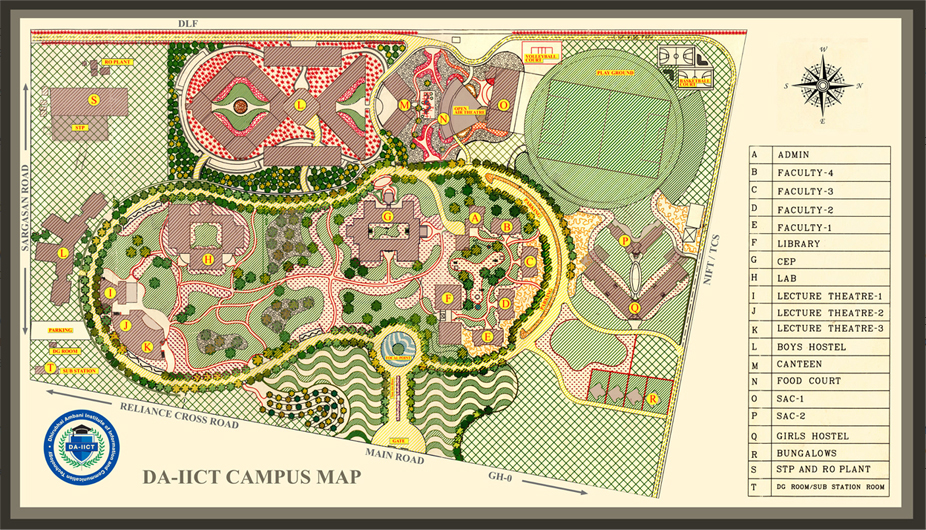 The City Gandhinagar
Gandhinagar is the capital city of Gujarat established as a modernized twin city for Ahmedabad. It was visualised as a planned city along the lines of New Delhi (by Edwin Lutyens), Chandigarh (by Le Corbusier) and Bhubaneshwar (by Otto H. Koenigsberger) . Located on the banks of the River Sabarmati, the city is the administrative centre of Gandhinagar and the capital of Gujarat as well. It does not seem to be a prudent concerted effort of creating Gandhinagar a Knowledge Hub by establishing several educational institutions of national and international repute, but it happened in sinusiodal phase during last one century or less.
Several institutes of international and national repute are located in Gandhinagar and Ahmedabad, inter alia, Institute for Plasma Research (IPR), the Indian Institute of Management (IIM), the National Institute of Design (NID), Physical Research Laboratory (PRL), PanditDeendayalPetrolium University, LD Institute of Indology, Center for Environmental Planning and Technology (CEPT) and Space Applications Centre (SAC) of Indian Space Research Organization, Gujarat Vidhyapeeth, Entrepreneurship Development Institute of India, National Institute of Fashion Technology (NIFT), The National Institute of Co-operative Management, Gujarat National Law University, and Indian Institute for Advanced Research (IIAR). The Ahmedabad Management Association (AMA) is a notable institution established to impart management training and experience to young students and professionals.
Besides this uniqueness of being developed as a Knowledge Corridor, Gandhinagar (including Ahmedabad, which is actually the commercial capital of Gujarat) has so many other attractions too. It has been rapidly developing as a city of mega malls and multiplexes. On both sides of SG (Sarkhej-Gandhinagar) Highway one finds innumerous superstores and malls, to name a few are Iscon Mega Mall, Big Bazaar, Star India Bazaar, Acropolis, Gallops, Croma, Himalaya Mall, Reliance Mega Mart, 10 Acre.
Ahmedabadis are food lovers, they hang out during weekends in search of good food, great ambience and entertainment. One may find all types of Gujarati and non-Gujarati food within the city. For Gujarat food one can visit Sasuji (CG Road), Pakwan, Atithi (SG Highway), GovardhanThal (SG Highway), Vishala and Rajwaru (both near Vadodara Expressway). Old city of Ahmedabad is full of places that serve mugalai cuisine. Apart from that one may like to visit Mirch Masala (CG Road and SG Highway), Hyderabadi Biryani (off SG Highway), Upper Crust (near Vijay Chaar Rasta), Curries (near AMA), Chawlas (near Vastrapur Lake). Almost all brands of fast food joints have mushroomed in Ahmedabad.
Health care support is relatively better in Ahmedabad. Multi-spaeciality hospitals such as the Appollo Hospital, SAL Hospital, Sterling Hospital, Civil Hospital provide indoor and outdoor patient services round the clock. Apart from these there are many super-specialty hospitals and nursing homes available here.
Gandhinagar and Ahmedabad enjoy uninterrupted water and power supply throughout the year.
The airport and the railway station, both located in Ahmedabad, are within easy reach from the campus in Gandhinagar (a 20 minutes drive to the airport, and about a 50 minutes drive to the main railway station, popularly known as Kalupur Railway Station). The airport has international connectivity, with direct flights to most of the places in Europe and the USA.
There are several schools in Gandhinagar, including Central Board schools like Delhi Public School, Gandhinagar, Hillwood School (sector 25), Central School (sector 8). More options for schooling are available in Ahmedabad, which is only 30 km from the campus (within easy driving distance). DPS (Bopal), Prakash school, Maharaja Agrasen and Rachana are CBSE affiliated schools, whereas Eklavya, Anand Niketan and Zydus School for Excellence are ICSE affiliated. Admissions in these schools are normally announced during November and academic session starts in March.
Apart from the monsoon season, the climate of Gandhinagar is normally dry. Winter season never falls here, it is mostly hot weather throughout the year except monsoon. The maximum temperature stays in the range of 36°C (97°F) and 42°C (108°F), and the minimum in the range of 19°C (66°F) and 27°C (81°F). From November to February, the average maximum temperature is around 29°C (85°F), the average minimum is 14°C (57°F), and the climate is extremely dry. Sometimes it rains heavily in Gandhinagar due to the southwest monsoon during mid-June to mid-September.
Places to visit in Gandhinagar and Ahmedabad are SiddiSayyedJali, Jumma Masjid, Gujarat Science City, Akshardham (Gandhinagar), Law Garden Market, Vaishnodevi Temple, Kankaria Lake, Sabarmati Riverfront Development Project, SarkhejRoja, Adalaj Wav, Rani Sipri Mosque, Iskon Temple, Sola Temple, CG Road, Gandhi Ashram (Sabarmati), Calico Museum of Textiles (Shahibaugh).