Admission to the UG Programs (

All India Category

) for the academic year 2022-23 is closed.
Filling of online Application Forms commences on
07 April 2022
On-line application closes on

(Revised)

26 August 2022
Announcement of Merit List
05 September 2022
Last Date of Fees Payment for shortlisted candidates
15 September 2022
Announcement of Admission Status
20 September 2022
Registration and document verification at DAIICT campus for confirmed candidates
06 October 2022
Orientation Program
10-11 October 2022
Commencement of classes
12 October 2022
Number of seats: 152
B.Tech (Information and Communication Technology (ICT)) – 92
B.Tech (Honours) in ICT with minor in Computational Science – 42
B.Tech (Mathematics and Computing)- 18
Information & Communication Technology (ICT) embodies the convergence of Computer and Communication systems and has obtained wide acceptance as a distinct discipline. ICT is considered to be a discipline dealing with accessing, storage, processing, transmission, reception and display of information, primarily using digital systems and techniques. The curriculum in the B.Tech (ICT) program tries to address the optimized convergence of existing Computer Science and Engineering (CSE) as well as Electronics and Communication Engineering (ECE) disciplines by identifying the broad areas of performance capabilities. It is also expected that B.Tech (ICT) graduates would enjoy a special niche only if they have certain performance capabilities not found in conventional CSE and/or ECE graduates. For details of the program click here.
Computational Science is concerned with constructing mathematical models, simulating and quantitative analysis techniques, and using computers to analyze and solve scientific problems with applications in engineering and social sciences. In Computational Science, unlike the traditional theoretical and experimental approaches, scientists and engineers gain understanding mainly through the analysis of mathematical models implemented on computers. Typically, these models require massive amounts of calculations and are often executed on high performance computing backbone consisting of supercomputers or distributed computing or several inter-connected clusters of workstations and personal computers. The curriculum in B Tech (Honours) in ICT with minor in Computational Science aims to provide expertise to the students in techniques involved in modelling and simulation of complex and large scale systems, implementation on computers through parallel and high performance computing techniques and finally analysis and visualization of these large scale data sets. Further details of the program are available here.
To complete the B Tech (Honours) in ICT with minor in Computational Science Program successfully, the students have to take additional 18-24 credits worth of courses besides the usual ICT courses. The student must obtain a minimum CPI of 6.5 after completion of third Semester to continue in the program failing which she/he will be moved to the B.Tech (ICT) Program. The students who have obtained a CPI of 7.5 and above may apply at the end of the third Semester for transfer to the B.Tech (Computational Science) Program and the transfer will be granted only subject to availability of seats and in descending order from the highest CPI obtained.
Maths and Computing (MnC) is a fusion of Mathematics and Computer Science that has obtained wide acceptance as a distinct discipline over the past few years. It arises out of dealing with Mathematics as a fundamental tool in computing and with Computing as a primary component of mathematical problem solving. The program has been specially designed to meet the increasing needs of professionals who would be able to respond to the convergence between mathematical and computational problem solving.
The program aims at expanding the mathematical, algorithmic and computational thinking of students and at providing sufficient and solid foundation for skill development in MnC. A strong mathematical foundation would enable the study and analysis of abstract concepts and to model many real life problems mathematically, algorithmic thinking would provide ways to solve these mathematical problems in an automated way and computational thinking would allow for evaluating the efficiency of these solutions. The program aims to provide exposure to the students who wish to build a professional career in MnC, working at the cutting edge of technology, research and development. On successful completion of the program, the students would have acquired essential theoretical, technical and practical knowledge for solving real-world problems, and will have the ability to demonstrate excellent analytical, logical and problem solving skills. The students would have also acquired social and ethical attributes that would enable them in applying their skills for societal needs with effective communication both orally and in writing.For details of the program click here
B.Tech. (UG) 2020-22 Batch
Placement Statistics:
Highest Package: 52.75 LPA
Median Salary: 16.64 LPA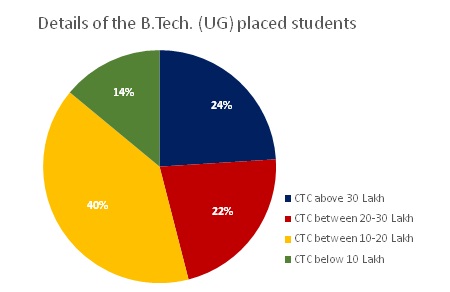 Title
Percentage
Students Placed
Total placed students
CTC above 30 Lakhs
24%
59
CTC between 20-30 Lakhs
22%
55
250
CTC between 10-20 Lakhs
40%
100
CTC below 10 Lakhs
14%
36
Top Recruiters: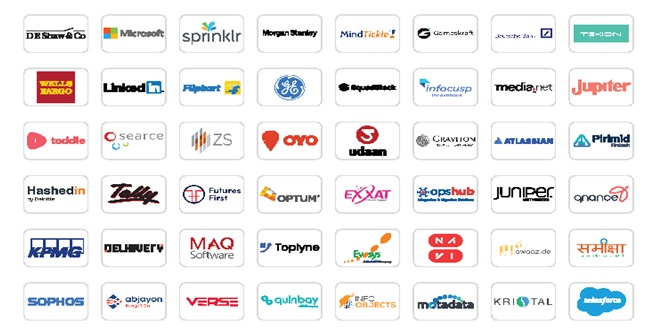 *Updated till 30th April 2022
Educational qualification
The minimum academic qualification for admission to the programs is that the candidate must have passed in final examination of 10+2 (Class XII) or its equivalent referred to as the qualifying examination (mentioned below). The candidate must have passed in final examination of 10+2 (Class XII) or its equivalent with Mathematics, Physics and any one of Chemistry/Bio-technology/Computer Science/Biology. Candidates appearing in the qualifying examination in 2022 are also eligible to apply for consideration of provisional admission. All candidates who are offered provisional admission will be required to produce the proof of having passed the qualifying examination (10+2 examination or equivalent) to the Institute latest by 30 October 2022, failing which the provisional admission will stand, cancelled.
If a candidate is found ineligible at a later date, even after admission to DA-IICT, her/his admission will be cancelled. All admissions will be subject to verification of facts from the original testimonials/certificates/documents of the candidates. The decision of the competent authority at DA-IICT regarding eligibility of any candidate shall be final.
A list of qualifying examinations is given below:
The final examination of the 10+2 system, conducted by any recognized Central/State Board, such as Central Board of Secondary Education, New Delhi; Council for the Indian School Certificate Examinations, New Delhi; etc.
Intermediate or two-year Pre-University examination conducted by a recognized Board/University.
Final examination of the two-year course of the Joint Services Wing of the National Defence Academy.
Senior Secondary School Examination conducted by the National Institute of Open Schooling with a minimum of five subjects.
Any Public School/Board/University examination in India or in any foreign country recognized as equivalent to the 10+2 system by the Association of Indian Universities (AIU).
H.S.C. vocational examination.
A Diploma recognized by AICTE or a State Board of Technical Education of at least 3 year duration.
General Certificate Education (GCE) examination (London/ Cambridge / Sri Lanka) at the Advanced (A) level.
High School Certificate Examination of the Cambridge University or International Baccalaureate Diploma of the International Baccalaureate Office, Geneva.
Age
Only those candidates whose date of birth falls on or after 01 October 1997 are eligible. Date of birth as recorded in the 10th or 12th standard certificate, as issued by the Board/University only, will be taken as authentic. Candidates must produce this certificate in original as proof of their age at the time of counselling.
Admission to the B. Tech. programs will be based on the All India Rank of Joint Entrance Examination 2022 (JEE-2022) Main, which is conducted by the National Testing Agency, Government of India. Therefore, candidates who are appearing for JEE 2022 Main can only apply for these programs.
The short-listed candidates will be offered admission (confirmed/waitlisted) in order of their merit (based on the All India Ranking of JEE 2022).
All India Category candidates belonging to Scheduled Caste and Scheduled Tribe will be admitted on relaxed criteria as compared to the general category candidates. In case some of the reserved seats are not filled in, the unfilled seats will be transferred to the general category. For Gujarat Category, ACPC will follow its own policy in this regard.
The DA-IICT reserves the right to change the eligibility, number of seats, admission policy and procedures etc., for All India Category without any prior Notice.
At the time of counselling an amount of Rs. 1,11,000 (Rs. 86,000 towards Tuition Fee for the First Semester and Rs. 25,000 towards Caution Deposit) is to be paid. Subsequently, fees are charged semester-wise, with the registration at the beginning of each semester.
| | |
| --- | --- |
| Tuition fee | Rs. 86,000 per Semester |
| Registration Fee | Rs. 2,500 per Semester |
| Caution Deposit | Rs. 25,000 (Refundable at the end of the Program) |
| Hostel Rent | Rs. 23,000 per semester |
| Food | On actuals. There are multiple food options available in the campus (The expense will be approximately Rs. 5,500 per month) |
*Subject to revision
Education Loan
The Institute will facilitate the students to avail educational loan from selected Banks. The bank officials will be present on campus at the time of registration of admitted students so as to enable the students to obtain details on procedures and terms and conditions of the loan. The students can also avail loan from banks of their choice and in either of the case; the Institute will extend support in completing the loan documentation process.
Financial Support
The Institute provides financial support in the form of scholarships to eligible students as per details given below.
DA-IICT Scholarships
A few students admitted to the programs are awarded merit scholarships equivalent to full tuition fees. The Institute shall draw a list of students eligible for merit scholarship based on the admission ranks drawn from Gujarat and All India Categories separately. In addition, five merit-cum-means scholarships are offered to the students with highest ranks subject to a means test.
Mukhya Mantri Yuva Swavalamban Yojna, Government of Gujarat
The admitted B.Tech students are encouraged to apply for the 'Chief Minister Scholarship Scheme' of the Government of Gujarat. The Scheme provides financial support to bright and needy students.
Refund Policy
The refund policy for the withdrawing candidates is in accordance with the UGC/AICTE rules.
There are two separate online application forms for B.Tech. and B.Tech. (MnC) programs. B Tech application form includes B.Tech. (Information and Communication Technology (ICT)) and B.Tech. (Honours) in ICT with minor in Computational Science. There is a separate application form for B.Tech. (MnC) program.
Please submit online application form by clicking on the link given below. Application fee (non-refundable) is Rs. 1200/- plus GST 18% (Total: Rs. 1416/-).
The Candidate has to satisfy the eligibility criteria in order for her/his application to be considered for final admission.
The admission to the candidates to the programs will be based on the All India Rank of Joint Entrance Examination 2022 (JEE-2022) Main, which is conducted by CBSE. Therefore, candidates who are appearing for JEE 2022 Main can only apply for these programs.
The short-listed candidates, based on the All India Ranking of JEE 2022, will be offered admission (confirmed/waitlisted) in order of their merit (based on the All India Ranking of JEE 2022). Counselling will be done online. Applicants are advised, from the date of announcement of first merit list, to check for e-mail communications from the Institute to learn about the admission status and steps they need to take to continue with the counselling process.
The candidates who have accepted admission offers will be asked to appear for registration, document verification and payment of fees. Subsequent to this there will be orientation for those who have been given confirmed admission.
Voice Call: 080 66 91 91 80
Support Ticket: Click here
The information on admissions 2022 provided are to inform the prospective candidates about the programs and activities of DA-IICT and are subject to change from time to time.
The candidates will be bound by the rules and regulations of the Institute as applicable during their course of study at DA-IICT. Students who have failed to achieve the minimum required academic performance at the end of second or fourth semester shall be discontinued from the Institute. Disputes, if any, relating to admission shall be subject to Gandhinagar, Gujarat, India jurisdiction only