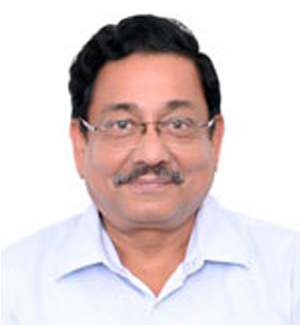 Dr. K.S. Dasgupta
Dr. K.S. Dasgupta holds a PhD (Engineering) from Indian Institute of Technology, Bombay. He has finished his B.E. in Electronics and Telecommunication and Post Graduate degree in Computer Science from Jadavpur University.
Prior to joining DA-IICT, Dr. K.S. Dasgupta served as the Director of Indian Institute of Space Science and Technology (IIST), Trivandrum, a deemed University under the aegis of Department of Space, Government of India, for five and half years. He was the second Director of the newly set up Institute and was responsible in strengthening academic and research programs, setting up modern laboratories specially the nano-satellite and robotics laboratories and facilitated association of IIST students with Engineers and Scientists in Space Research Centres. During his tenure, the IIST started fifteen post-graduate programs and they included programs in Avionics, Aerospace, Earth and Space Sciences. He initiated the ISRO-IIST collaborative research program for faculty and students to participate and contribute in space research and technology. He also designed and published courses on Satellite Communication and Digital Signal Processing.
Dr. Dasgupta began his career with the Space Application Centre, Indian Space Research Organization in November 1974 as an Engineer (Scientist cadre) and served in various capacities notably as Deputy Director, Satcom Navigation Payload Area (SNPA) and Director, Development and Educational Communication Unit (DECU). As Deputy Director, SNPA, he lead a group of Engineers and Scientists involved in the design and development of (i) satellite payloads, (ii) satcom ground systems, (iii) technology transfer, (iv) technology development and research and development programs, and (v) institutional collaborative research programs. In his position as Director (DECU), he lead a group of Engineers, Scientists, Social Science Researchers and Producers who were involved in design, configuration and installation EDUSAT tele-education and tele-medicine network, content generation for tele-education and science mission, study the social impact of EDUSAT and SATCOM network for social applications.
Dr. Dasgupta has several publications to his credit in National and International Journals and Conference Papers on Communication Network, Information Security, Computer Applications, etc. He has co-authored the book 'Handbook of Research in Mobile Business – Technical, Methodological and Social Perspective.' His field of specialization includes – Signal Processing, Digital and Satellite Communication, Computer Network and Computer Architecture. He has supervised many PhD students. He is Fellow of IETE, Senior Member IEE and Life Member of Computer Society of India.