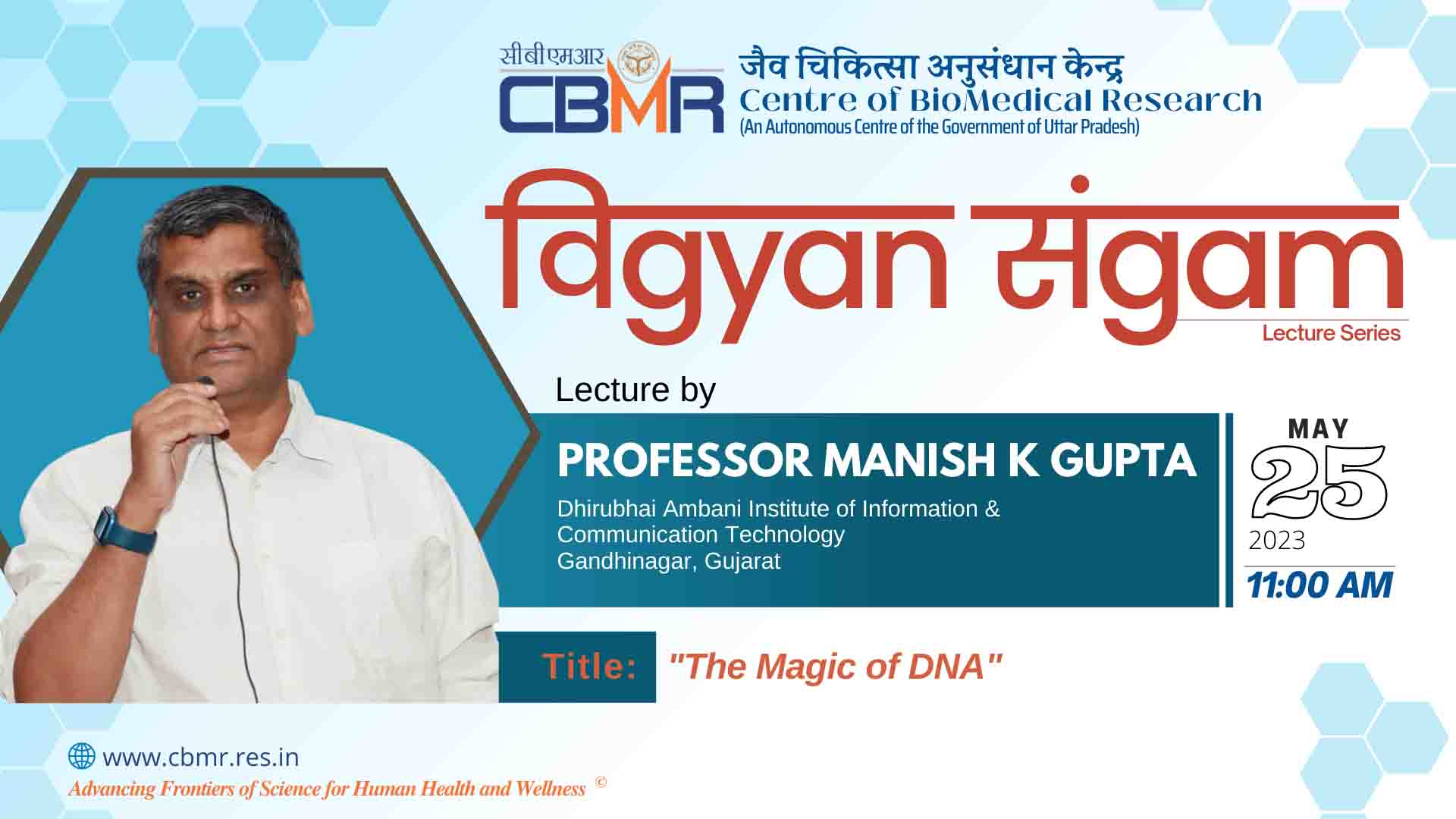 DAIICT professor 𝘔𝘢𝘯𝘪𝘴𝘩 𝘒 𝘎𝘶𝘱𝘵𝘢 will be delivering a lecture on the topic "𝐓𝐡𝐞 𝐌𝐚𝐠𝐢𝐜 𝐨𝐟 𝐃𝐍𝐀" on May 25, 2023 at the Centre of Biomedical Research (CBMR), Lucknow. It is a part of CBMR lecture series "Vigyan Sangam" which was started on the occasion of 75th Anniversary of Indian Independence Day (Azadi Ka Amrit Mahotsav). This will be the second year into the lecture series where Professor 𝘔𝘢𝘯𝘪𝘴𝘩 𝘒 𝘎𝘶𝘱𝘵𝘢 will deliver the first lecture. CBMR is a premier #research institute dedicated to disease- oriented-research that aims to translate innovations and discoveries of basic sciences into new diagnosis and therapies for better patient care.
In the lecture, Professor 𝘔𝘢𝘯𝘪𝘴𝘩 𝘒 𝘎𝘶𝘱𝘵𝘢 will talk about convergence of life and computation. He will focus on research problems related to DNA Computing, Chemical Computing, Synthetic Biology, DNA Origami etc. He will show how the magic of DNA can create wonderful things in the area of DNA nanotechnology with potential applications in drug delivery systems and vaccines.
Since 2006, he has been with the Dhirubhai Ambani Institute of Information and Communication Technology (DA-IICT), Gandhinagar, India and currently works as a professor. His areas of interest are the elegant applications of mathematics in emerging technologies. His group is well known for developing open-source software products (for example, DNA Pen, 3DNA, DNA Cloud) in DNA nanotechnology.
May 25, 2023, 11:00 AM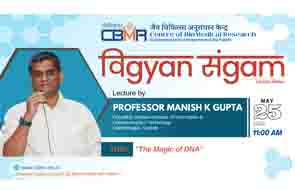 Prof. 𝘔𝘢𝘯𝘪𝘴𝘩 𝘒 𝘎𝘶𝘱𝘵𝘢 will be delivering a lecture on the topic "𝐓𝐡𝐞 𝐌𝐚𝐠𝐢𝐜 𝐨𝐟 𝐃𝐍𝐀" at the CBMR, Lucknow