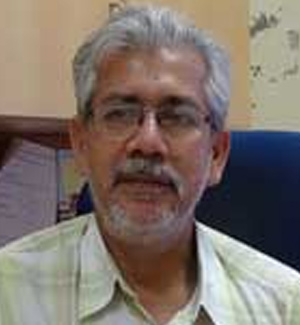 Dr. Ranendu Ghosh
Dr. Ranendu Ghosh has completed his post graduation and Ph.D. from Indian Agricultural Research Institute (IARI), New Delhi in Soil Chemistry and Plant Nutrition. After finishing his degree from IARI, he joined SAC, ISRO, Ahmedabad as scientist. During his stay at SAC (ISRO) he contributed in various national missions for the application of satellite remote sensing and communication technology for the development and planning of natural resources in the country. He has taken voluntary retirement from SAC, ISRO and joined as a full time faculty at DA-IICT in 2010.
Some of the major projects he participated are Village Resources Center (VRC), National Resources Information System (NRIS), and Integrated Mission for Sustainable Development (IMSD). As part of VRC project Dr. Ghosh coordinated the activities of designing and implementing 11 student and 4 master nodes in the villages of Kutch, Ahmedabad, Surendranagar for tele-medicine, tele-education.
In recognition to his contribution for developing a tele medicine center at Sabarmati jail and connecting with Apollo hospital, Dr.Ghosh and Gujarat Police, was jointly conferred with Manthan Award South Asia 2009 by Digital Empowerment Foundation, New Delhi.
Dr. Ghosh is also recipient of prestigious ISRO Team Excellence Award and Best Teacher Award, DA-IICT in 2012 and 2015 respectively. Dr. Ghosh has published number of scientific papers in national and international journals of repute.